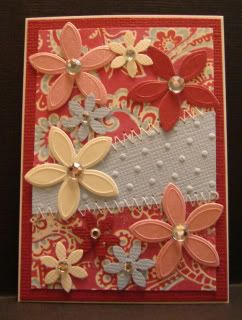 So this IS the ATC I chose to use for the Floral ATC Swap on the Cricut MB.
I used the white ATC base from Oriental Trading in the standard 2.5"x3.5" size and cut the red Bazzill cardstock layer 1/8" smaller.  The printed paper is 1/4" smaller than the red cardstock and is from the My Mind's Eye paper stack from Costco.  The light blue strip was cut with my Cricut using the TBBM cart's
on blackout at 2.5".  It was a bit too long, so I had to snip a bit off the end.  I embossed it with my Cuttlebug using the Swiss Dots folder.  I then used my ancient sewing machine for the zig-zag stitching.
The larger flowers are Brides table confetti from the wedding aisle at M's, and the smaller ones were made with a daisy punch.  The gems are Darice, 3mm and 5mm, purchased at J's.
Overall I am pleased with how these turned out.  Although it was a very simple design, making 15 of them took quite a while!